Eambalam, now called Pondicherry, has a recorded history only from the time of European colonization. In 1674 the French East India Company set up a trading center at Pondicherry. This outpost eventually became the chief French settlement in India.
The French acquired Mahe (on theWest Coast of the Indian peninsula) in the 1720s, Yanam in 1731, and Karaikal in 1738 (both districts in Pondicherry). During the Anglo-French wars (1742–1763), Puducherry changed hands frequently. On January 16, 1761, the British captured Puducherry from the French, but the Treaty of Paris (1763) at the conclusion of the Seven Years' War returned it.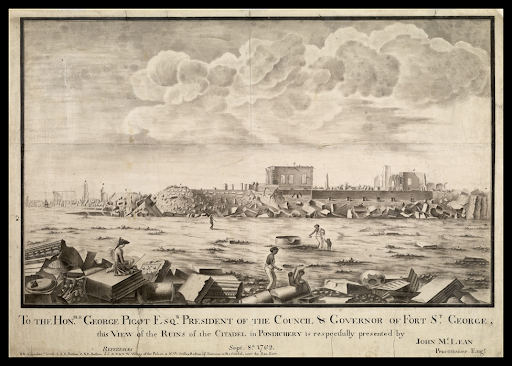 The siege of Pondicherry, 1760.
The British took control of the area again in 1793 at the Siege of Pondicherry amid the Wars of the French Revolution, and returned it to France in 1814. When the British gained control of the whole of India in the late 1850s, they allowed the French to retain their settlements in the country. Pondicherry, Mahe, Yanam, Karaikal and Chandernagar remained a part of French India until 1954.
From the time India gained its independence from British rule in 1947, it raised the issue of the French settlements on the continent with the Government of France. It took seven years for Puducherry to effectively unite with independent India. Political agitation to achieve this goal began earlier.
In 1787 and 1791, farmers of Karaikal agitated against the heavy land tax imposed by the French. The rebellion of 1857 had an effect in the French settlements but it did not attract the attention of the rulers, as the incidents were few and considered as local. People employed legal means to fight against the French. In 1873, an advocate, Ponnuthammbi Pillai, convinced a Paris court of his cause. 
Student protests in 1927 and 1930 expressed their desire for an end of French oversight. Leaders such as Mahatma Gandhi, Jawaharlal Nehru, and Bal Gangadhar Tilak visited Pondicherry and its other enclaves and addressed the meetings. In 1934, Swatantram, a monthly, was started by veteran independence activist and trade union leader V. Subbiah for the cause of workers and the country.
Police control, which warranted trade union unrest, further increased civilian agitation against the colonial government. In late 1930, grassroots organizations known as Mahayana sabhas were started in Pondicherry and Karaikal. These groups, along with trade unions, organized the Non-Cooperation Movement. During the Second World War, Puducherry supported France with men and material. Deaths among French-Indian soldiers caused unrest in the enclaves.
In 1946, the French India Congress was formed with the objective of integrating the French possessions with India.